Description
Rent a Villa in Malta
Rent a Villa in Malta. One of a kind, luxury villa in Bahar Ic-Caghaq. It is located in best area of the village which is very private. The villa to let in Malta consists of:
4 Bedrooms
3 Bathrooms (1 ensuite)
AC's through out

Fireplace

Sky light

Swimming pool

Kitchenette, shower & toilet by pool.


Satellite tv included
The monthly rent is that of Euro 4,500 pm.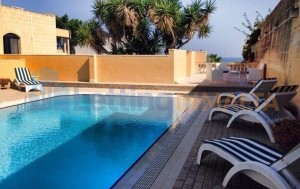 Bahar ic-Caghaq is a small sea side village in the limits of Madliena and Gharghur.  'Baħar iċ-Ċagħaq' means a 'sea of pebbles' in English. This is named after a long stretch of rocky coast that features plenty of sharp rocks and pebbles. The area is mostly known for the 'White Rocks', attracting numerous locals and tourists for swimming and sunbathing. There are a number of bars and restaurants, as well as a fun park and a marine centre that hosts a dolphin show. Baħar iċ-Ċagħaq falls under the administration of Naxxar Local Council.