Description
Malta Lets Studio Birkirkara
Malta Lets Studio Birkirkara. This studio apartment is located in a quite street which is within walking distance to McDonalds in Birkirkara and bus connections. The studio is equipped with modern furniture and has 1 double bed. Furthermore one will find an open plan kitchen/living/dining, 1 bathroom and well sized back yard.
Fully furnished and equipped including A/C, 32inch LCD TV, washing machine. Apartment is on ground floor level and located in a new block.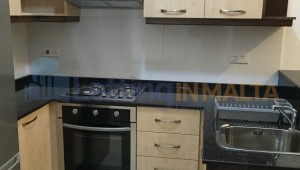 Birkirkara is a village located in the central region of Malta. A popular village since it is easily accessible from all parts of Malta. Birkirkara also consists of two other districts which are quite popular since they entail large commercial estates. These locations are Swatar and Mriehel. One will find many office blocks housing all sorts of different companies and employees. Naturally this leaves Birkirkara as a highly sought after area for residential apartments in Malta. The city consists of four autonomous parishes: Saint Helen, Saint Joseph, Our Lady of Mount Carmel and Saint Mary. The city's motto is In hoc signo vinces, and its coat of arms is a plain red cross, surmounted by a crown.